Some of our current projects involve markerless patient registration, 3D visualization of CT data and models directly within the patient, multi-user learning experiences, 3D databases (some of which are publicly available at https://medshapenet.ikim.nrw), inside-out tracking of patient and surgical instruments, and ongoing work on an augmented reality-assisted US-scanning approach with artificial intelligence support. Our vision encompasses a promising future where we bring visibility to the previously imperceptible, illuminating the unseen.
While we cannot showcase all our current projects online, we are excited to share a glimpse into our work.
3D visualization of CT and segmented models
This AR technique enables direct visualization of CT data and models within the patient, facilitating the translation from 2D CT slices to a 3D representation for enhanced diagnosis and treatment planning.
Gsaxner C, Pepe A, Wallner J, Schmalstieg D, Egger J. Markerless Image-to-Face Registration for Untethered Augmented Reality in Head and Neck Surgery. In 2019. p. 236–44. Article
Markerless patient registration
We have developed an automated markerless registration method for seamlessly integrating CT data and segmented models into the patient. This method addresses the switching focus problem, providing surgeons with direct 2D to 3D mapping of CT data and enabling surgical navigation in a cost-effective manner.
Gsaxner C, Pepe A, Wallner J, Schmalstieg D, Egger J. Markerless Image-to-Face Registration for Untethered Augmented Reality in Head and Neck Surgery. In 2019. p. 236–44. Article
Instrument tracking
Using the sensors of the HoloLens 2, we have achieved highly accurate instrument tracking through infrared reflective markers. By combining this technology with our previous advancements, we offer an out-of-the-box solution for surgical navigation, eliminating the need for additional expensive equipment. An intersting follow up research would be the less acurate but intersting free form segmentation and tracking, i.e., without the need of infrared reflective markers.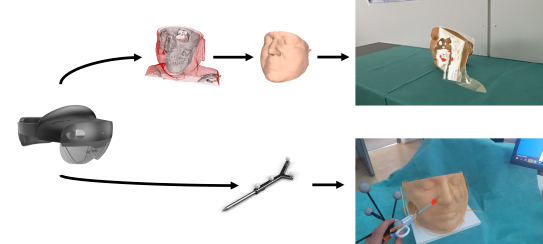 Gsaxner C, Li J, Pepe A, Schmalstieg D, Egger J. Inside-Out Instrument Tracking for Surgical Navigation in Augmented Reality. In: Proceedings of the 27th ACM Symposium on Virtual Reality Software and Technology [Internet]. Osaka Japan: ACM; 2021 [cited 2023 Apr 12]. p. 1–11. Article
Multi-User Learning Experiences
Collaborative learning takes center stage in our research, as we create immersive multi-user experiences that foster interactive education and training for medical students. It could also be leveraged to enable multidisciplinary teams to discuss a patient's treatment plan, without the need to be in the same room.
With our structured light 3D scanners, namely the Artec Leo and Autoscan Inspec, we have scanned over 100 instruments commonly used in clinical routines. This extensive collection serves various purposes, including general instrument detection and tracking in operating room settings, as well as medical simulation or training scenarios in virtual reality and mixed reality. These surface models can be enhanced to achieve realism using shaders available in popular game engines like Unity3D or through 3D modeling software such as Blender.
Luijten G, Gsaxner C, Li J, Pepe A, Ambigapathy N, Kim M, et al. 3D surgical instrument collection for computer vision and extended reality. Sci Data. 2023 Nov 11;10(1):796. Article
Interested ?
If you are intrigued by one of our ongoing projects or have a vision to initiate a new project by combining our extensive range of equipment with AI solutions, we encourage you to reach out to us. We welcome opportunities for (master) internships and collaborations. Some examples of potential projects include mixed reality visualization of needles and instruments using our advanced tracking systems, tackling free-form stand-alone tracking challenges with our cutting-edge headsets, developing applications directly on the GE-ultrasound device, or creating mixed reality applications that can model AI-generated patient-specific models prior to 3D printing rapid prototypes. If you have a project idea of your own, we are here to empower you to make valuable contributions to the field. Don't hesitate to get in touch with us.
See the contact form section and e-mail me directly!